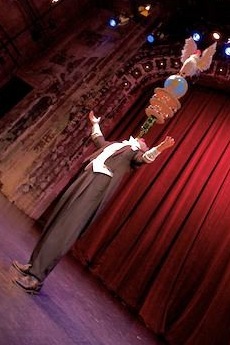 Welcome to the home of Theatre of Fools. Our founders Lloyd Brant and Rosie Cole have traveled to the far side of the globe to perform their off-balanced absurd theatrics. After 25 years of touring Lloyd and Rosie decided to make a transition from a life on-the-road to living at home fulltime, sharing their art with the citizens of Minnesota. Thus the non-profit Fools Productions was born, to build the connection between the Minnesota public and our art.
Our belief is that the purpose of the clown's art is to heal us from the pain of our own human failings. Our mission is to serve this purpose. As part of this mission Lloyd Brant and Rosie Cole trademarked the Emergency Clown Nose ®, which they designed as a medicine jar with a clown nose inside. The idea was to distill the popular philosophy of healing through laughter into a bottle.
The founding purpose of Theatre of Fools is to produce bold new works that are a fusion between theater, magic and circus to delight, inspire and heal our audiences from the drudgery of their daily lives.