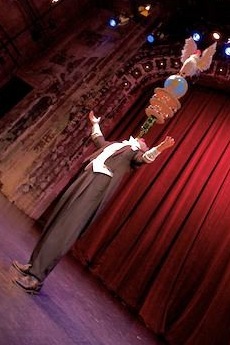 Welcome to the home of Theatre of Fools. The founders, Lloyd Brant and Rosie Cole have toured their unique brand of absurd theatrics all over the USA and across the globe. Their work is a fusion of theater, magic, and the delight of the circus arts.
Inside you'll find their selection of shows available for booking. Thanks to the generous support of multiple grant awards from the Minnesota State Arts Board, Lloyd and Rosie have developed a series of full evening shows exploring the art of healing the human heart through humor.
Lloyd and Rosie are well known for their trademark Emergency Clown Nose ®, which they designed as a medicine jar with a clown nose inside. The idea was to distill their philosophy of healing through laughter into a bottle. First used as a prop in their show the Emergency Clown Nose® is now sold across the United States and around the world.
Theatre of Fools have traveled to the far side of the globe performing their off-balanced absurd theatrics, and they would like to now bring their show to your theater, festival, or special event.